If you want to know where to buy gourds, We have …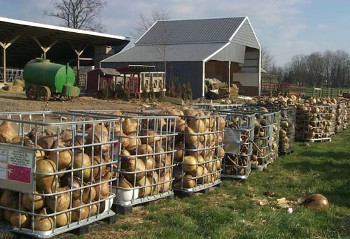 Clean Dried Gourds for Sale
Are you looking for a gourd supplier? We have craft ready, first-quality gourds for sale, delivered direct to you. Every naturally unique gourd lends its character to your project; our Amish Gourd difference yields the minimum of nature's blemishes, warts, tiny holes, and grooves. You can use these gourds to create fall decorations, paint a snowman, or to make a gourd birdhouse. With a variety of different shapes and sizes, we can supply you with gourds for almost any project. 
These gourds are grown and hand-picked in the richest farmland in America creating nature's excellent quality gourds – superior for crafting. Can your old gourd supplier give you that? One reason our gourds are such high quality is that we get the harvest timing down to a science. When you know when to harvest your gourds, the end product comes out much better. 
Variations in color, texture, and thickness are a byproduct of nature, making them popular to work with. Gourds sold for art and crafts are carefully selected for their quality. We will personally select the shape and sizes your want. Just let us know, this is what sets us apart from other gourd suppliers!
Save your precious time by not cleaning gourds.
Start carving, burning, or painting right away!
We save the Best of our Crop for gourd crafting. Our clean dried gourds are ready for your personal touch. We pay attention to detail from the field prep work before the seed is planted to the moment the gourd is picked. Drying gourds properly is important to us as it helps keep the quality of our product as high as possible. We do NOT have a minimum quantity purchase.
Fill your want list today; buy several and save!
Each gourd on this page is sold individually, unless noted otherwise.
Purple Martins are attracted to natural gourds more than any other housing. Our gourds are great for many different species of birds. For example, robins love gourd birdhouses. The hole size for a robin gourd birdhouse is different than the hole size for purple martin birdhouses, so be sure to check our birdhouse sizing chart to get the right diameter. Read this article to learn the facts on why Gourds make the Best Bird Houses.
Clean, Dried, Raw Gourds for Sale. We want to be your Gourd Supplier.
Coming Soon
The products below coming soon or temporarily out of stock