Making gourd flowers with small, ornamental size gourds is fun and easy. I use egg gourds, Chinese mini bottle gourds and small ornament (kettle shaped) gourds for my flowers.
First, gather everything you will need.
Bucket of water
Drill – power drill is best
Sharp exacto knife (I use the COT – cut out tool)
Small hand saw or very sharp scissors/small blades
8 bamboo skewers (sold in most grocery stores for shish kabobs)
Dye, inks or acrylic paint and sealant
Gourds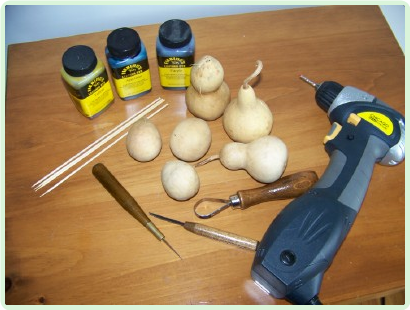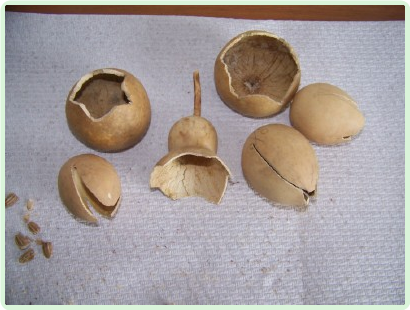 1. Drill a 1/16″ hole in the bottom of the gourds to insert the skewer 2. Draw the line to cut onto the gourds with a pencil 3. Soak the gourds in warm water for about an hour until soft 4. Using the knife or COT, start a cutting hole 5. Cut along the line you drew using a small hand saw or sharp scissors (the gourd will not break as easily when it is softened) 6. Remove the seeds and pith, allow to dry 7. Paint or dye the gourds, use an old egg carton to set the wet gourd on 8. When dry, seal with a craft sealant 9. Using glue or a hot glue gun, insert the bamboo skewer into the hole and place a drop of glue at base of hole to hold. Add any decoration such as dry pods, silk flowers, leaves or whatever you desire using glue or the glue gun. 10. Arrange in a flower vase (gourds work well for this purpose also!)
Bring spring into your home year round with a lovely arrangement of gourd flowers. And you don't have to worry about over watering them!