Purple Martins are one of natures most desirable birds, and they love Gourd Houses. When built and hung properly, a Purple Martin Gourd House will be their first choice for raising a new clutch. Now you can attract your own Purple Martin colony the way the professionals do. These purple martin kits, houses, gourd hanging racks and accessories make it so easy. Add cleanout access holes, crescent shaped holes, and adjustable Starling Resistant Entrance Holes (SREH) to your existing gourds. Train your birds from using old round holes to new crescent shaped entrance holes that resist Starlings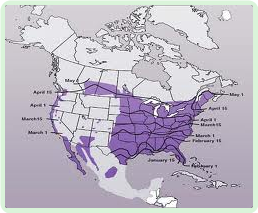 Take advantage of our super sale on the Purple Martin house with the adjustable crescent entrance and cleanout cylinder.  Lowest price ever.Until all are sold, don't miss out on this chance for the best price available for this natural gourd martin house.
Check out our gourd birdhouses available for sale.